Made to Measure Suits
Getting married or just want something that fits and feels amazing? This is the service for you. We specialize in combining craftsmanship with flair.
Custom Made to Measure Offerings: Custom Suits, Shirting, Jackets, Trousers, Vests, and Coats.
Full personal tailoring. Over 1,200 fabrics. Personal service. Available in-store by Appointment

PSC - Made to Measure Suiting and Shirting
Custom Made to Measure – Custom Suits, Jackets, Trousers, Vests, and Coats.
To ensure a perfect fit from head-to-toe, our comprehensive Custom Made to Measure program features fully measured suits, jackets, trousers, vests and coats. Custom Made to Measure allows you to choose from countless design options, and over 1,200 fabrics.
Fully made to measure
Half and Full canvas construction
Over 1,200 fabric varieties to choose from
Pure cashmere and wool fabrics from Super 110 to Super 160
Broad range of unique design options for jackets and coats
Custom Made to Measure – Shirts
Choose from hundreds of fine cotton fabric, color and pattern combinations, and add your choice of cuff, collar, pocket options, and initials with a monogram.
Choose from over 400 different fabrics
100% pure cotton
Pleated shoulder, cuff and back (yoke)
Durable stitched seams with up to 10 stitches per cm
Mother of Pearl buttons
The Process
1. SCHEDULE APPOINTMENT
Book an initial consultation with an expert clothier at our DTLA Flagship to discuss your current style, aspirations, and budget. Allow for 1-2 hrs.
2. DESIGN
Our clothiers will guide you in selecting the fabrics, styles, and features that best complement your sartorial sensibility.
3. MEASURE
Each garment is specifically styled for your individual body type & build. We take 23 different measurements for each suit and 9 for each shirt.
4. FIT
Within 4-6 weeks of placing your order, your garments will arrive back in our showroom for a final fitting - Once your garment is fully constructed, you'll try on your new clothing and we'll make slight adjustments to insure you have the best fit possible. 
Schedule Appointment
To schedule a fitting at our Flagship Store email us at: custom@pocketsquareclothing.com or call us at: (213) 375-5111 Note: We currently only offer fittings at out Flagship store in Downtown Los Angeles.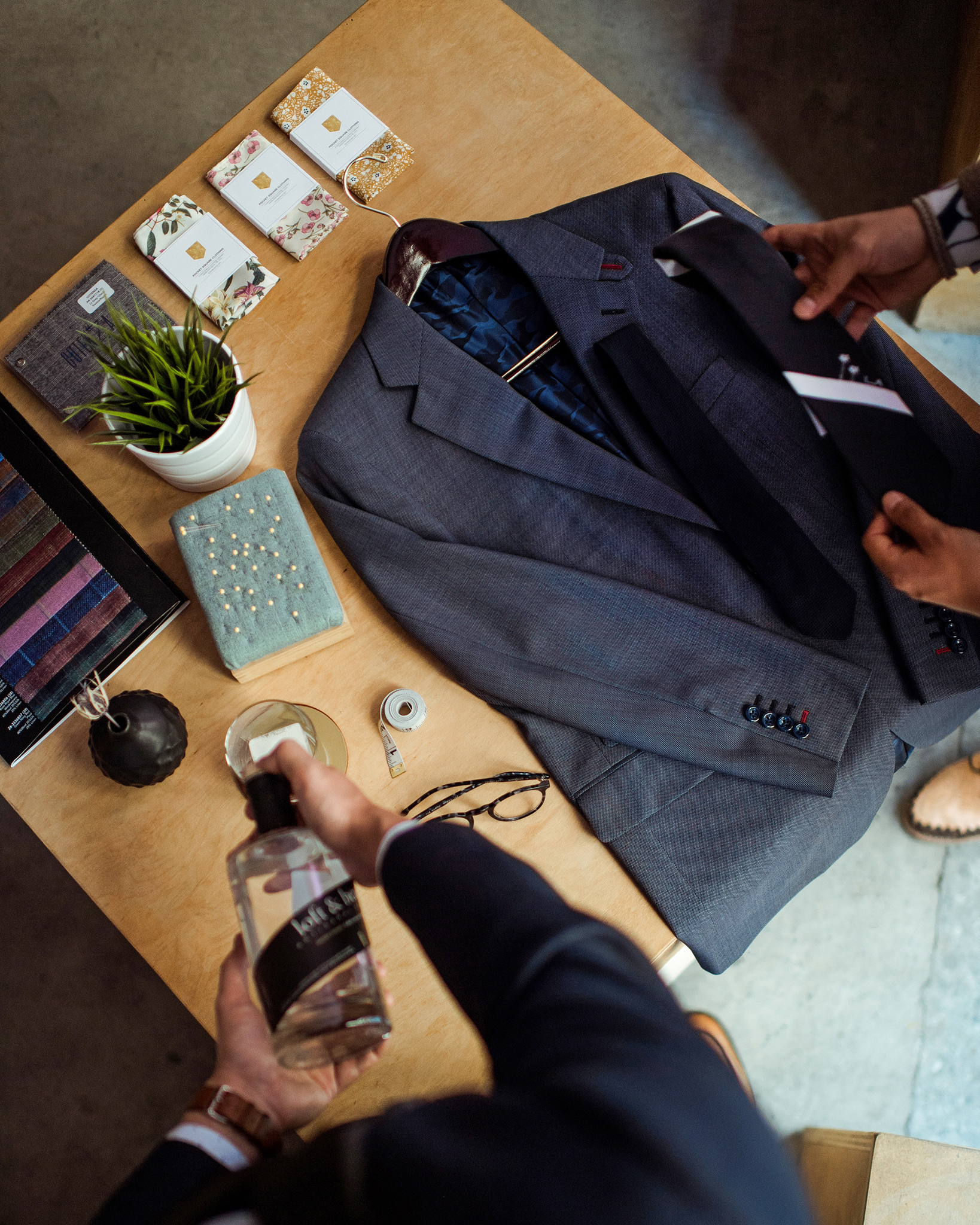 [powr-contact-form id=00322a68_1521257284]