Private Label & USA Manufacturing

PSC Private Label vs Contract Manufacturing?
Private label products are those that are designed and manufactured by Pocket Square Clothing and branded under a different label. We can custom source fabrics, labels, trims, and packaging but are generally more expensive than contract manufactured products.
Contract manufacturing on the other hand is a process in which we simply manufacture your desired accessories and or garments. As a designer, you provide us with specifications, fabrics, labels, and trims. This process allows you for more flexibility and control but is subject to manufacturing minimums of 100 Units.
PSC - Private Label
Looking for corporate gifts or want to add to your collection of offerings? PSC offers private labeled goods. Use your designs or work with our team to develop a collection. Private label services are perfect for companies that wish to be less hands on. Think of us as consultants / manufacturers.

Top Hand Manufacturing
Established in 1969 - Acquired By PSC in 2019
Top Hand MFG. is a Los Angeles based manufacturing company specializing in the design and production of hospitality workwear and formal accessories. Since 1969, the company has had a rich history of working with some of the world's best brands, restaurants, and resorts, and is also one of the last remaining formal accessories manufacturers in the U.S. We continue to push the mantra that American made is better and that our actions are about more than just supporting the U.S. economy. Our goal is to open up more opportunities for local and sustainable manufacturing, and to provide solutions to new and established designers looking to produce in Los Angeles.
Now celebrating its 50th anniversary, Top Hand is currently spearheaded by the diverse expertise of two young designers (Andrew Cheung and Rodolfo Ramirez) and the original founder's daughter (Brenda De La O). With the passing of its founder, Martha Estrella, Top Hand was on the verge of closing its doors in 2019. We banded together our diverse areas of expertise to continue the legacy of the Immigrant Dream for a minority-owned and women-run manufacturer in America. Here you're not just working with a manufacturer, but a community of family.
From small batch manufacturing, to large scale production, the capabilities of our facility work for a variety of client needs. We take pride in developing an intimate level of understanding of our client needs to create a better product. We value quality and craftsmanship, and today we proudly carry on the legacy of American handmade production, and the timeless tradition of hand sewn quality. If you feel that we would be a good fit for your project and manufacturing needs please feel free to contact us! We look forward to sharing the journey with you and bring you a legacy that will last through the test of time.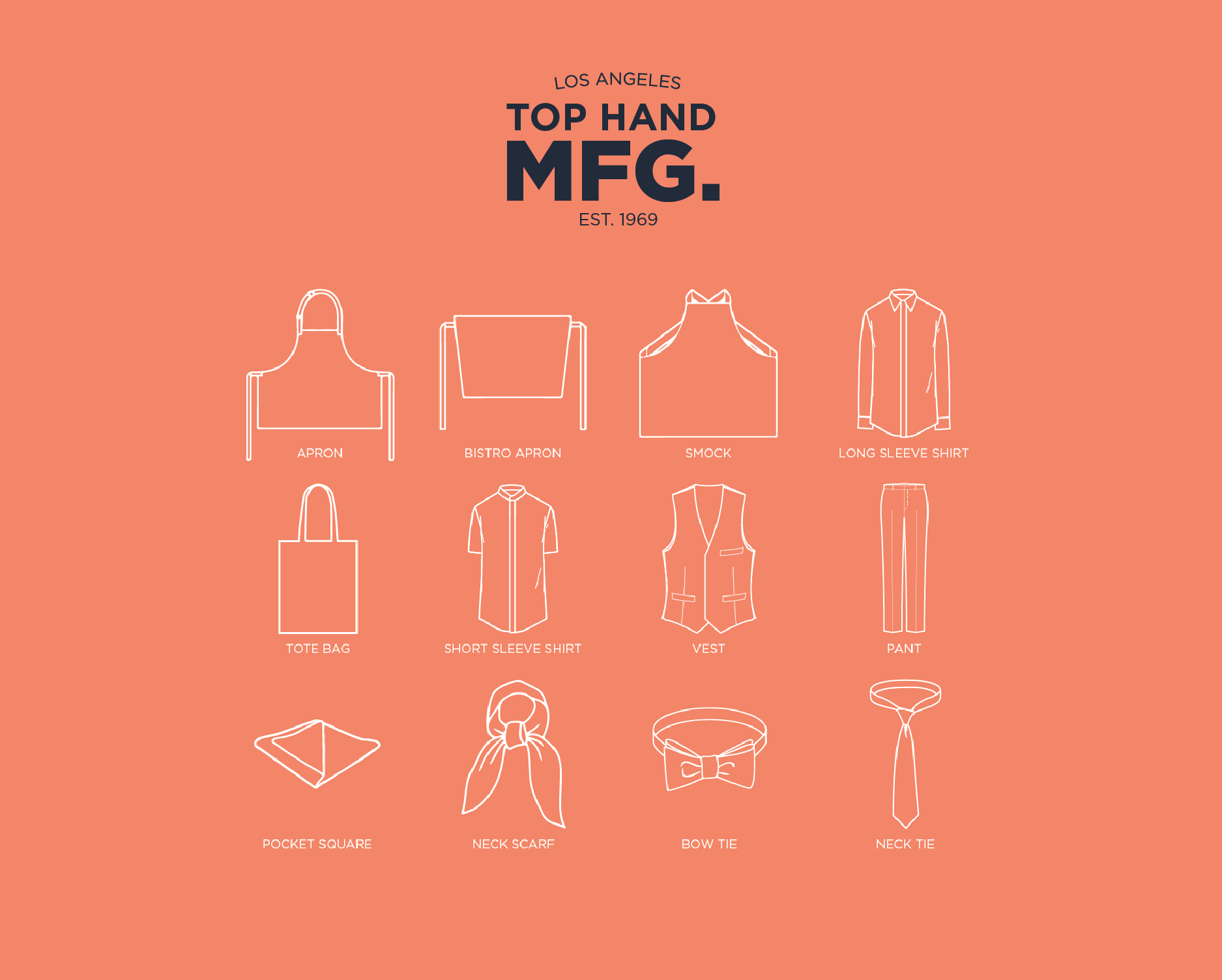 FAQs
What are your minimums?
We will work with production minimums as low as 25 per size, style and color.  We are proud to offer some of the lowest minimum order quantities in the industry, and are passionate about helping new designers start their brands successfully. For even smaller projects, we have stock options and sample making options to help fulfill your needs.
Can you work with large brands?
Yes!  Our facility in Los Angeles is dedicated to larger brands looking to scale their production. Contact us to find out how we can help.
Can you give me a price quote by email?
It depends. Since we specialize in formal accessories and hospitality uniforms, we're happy to offer existing patterns and predetermined pricing. We can usually only give a price quote once we have your pattern, tech pack, and fabric in hand and create a production sample for you. If you do not have a pattern we can direct you to one of our preferred pattern-makers, but we won't be able to give you a price quote on your garment until your pattern and production sample is finalized.  
What is your lead time?
Our lead time depends on a lot of factors: the season, other production orders in the schedule, what machines your garments require, etc. Once we receive your deposit, we will work to put you in the schedule and let you know the estimated completion date.
All I have to start with is a sketch, can you work with me?
Yes!  We love working with new designers, and can help turn your dream into a reality by creating professional patterns from your sketch. We have a preferred professional network of pattern-makers and resources that we work with.
Will you source fabric and notions for me?
We offer consulting services on sourcing fabric and notions that is subject to a fee, however we're also happy to direct you to the many readily available resources we have here in Los Angeles.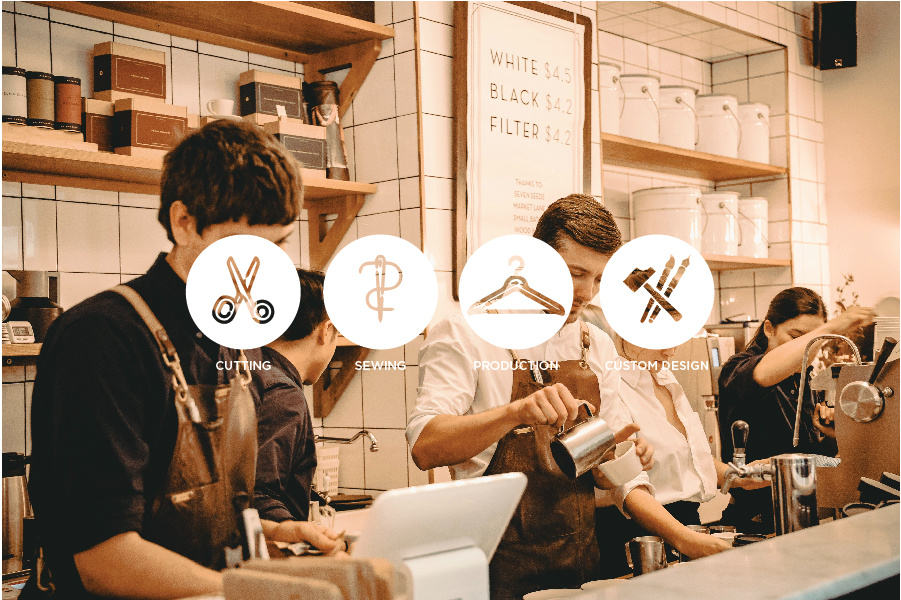 [powr-contact-form id=ba8e3cf2_1521234745]